Download Dyslexia Services A4 Leaflet
Assessment
Who can give a dyslexia diagnosis? Independent chartered educational psychologists and specialist teachers carry out formal dyslexia assessments, as well as online screening and non-diagnostic assessments.  
Ruth Gravelle, Specialist Teacher (level 7), is your first point of contact if you are considering booking any specialist services with associates of rightmind.life.
How do I get assessed for dyslexia?  We usually start with a chat on the phone to clarify your needs and to help ensure that an assessment is suitable for you or your child.  If you have any concerns about vision and/or hearing, please have these checked before attending your assessment. Important information about 'vision and dyslexia' is at the bottom of this page. Upon booking an assessment you will be sent a questionnaire to complete. This provides the assessor with detailed background information about your strengths and development, as well as your educational/workplace experiences and/or any other relevant information. 
How long does the assessment take? The assessment usually takes between 2-4 hours to complete.
What kind of tests are used to assess for dyslexia?  Tests we use provide further information about your strengths and underlying ability in areas of visual and verbal skills; speed of processing, phonological awareness, memory and auditory processing. We also explore your reading, writing and spelling skills, as well as handwriting and fine-motor skills.
How soon after the assessment will I get the dyslexia report? The detailed written report usually takes between 2-3 weeks to complete.
Do I need to bring anything with me to the assessment? If you normally wear glasses, hearing aids, use colour overlays, a pencil grip or any other aid, please bring them with you to the assessment.
Where does the assessment take place? Assessments are usually carried out on the first floor at: Rightmind.life, Perception House, 50b Duke Street, Chelmsford, CM1 1JA. There is no lift at Perception House, so please let us know if you have a disability preventing you from using the stairs and we can arrange an alternative location for the assessment. We also offer assessments in South London and Newark, Nottinghamshire. 
We are following the government advice regarding the Covid-19 risk:  https://rightmind.life/index.php/data-protection-policy/
Independent associates of rightmind.life include: 
Dr. Anna McGee,  Chartered Educational Psychologist providing assessments in Chelmsford and London.
Marilyn Smith, Specialist Teacher (level 7) assessing in Chelmsford and the Essex area.
Dr. Sue Warnock, Chartered Educational Psychologist providing assessments in Chelmsford and the Newark, Nottinghamshire.
Anna Graham, Specialist Teacher (Level 7) assessing in Chelmsford
Stella Alexiou, Specialist Teacher (Level 7) and workplace consultant in Essex and Suffolk 
If you are a L7 specialist teacher holding a current APC and would like to assess with us, please contact Ruth Gravelle.  
What is the difference between an Educational Psychologist and Specialist Teacher Assessment? There is little difference between the two assessment types; both educational psychologists and specialist teachers use appropriate tests and provide a detailed diagnostic report including recommendations. Educational psychologists do have access to some tests which are not available to teacher assessors; these have a higher number of sub-tests. Educational psychologist assessments are usually a little more expensive than specialist teacher assessments. In some instances an educational psychologist may be required to assess rather than a specialist teacher. This is usually known at the time of the assessment booking.
How much does dyslexia testing cost?
Diagnostic assessment with an educational psychologist: £520
Diagnostic assessment for a child with a specialist teacher: £480
Diagnostic assessment for an adult with a specialist teacher: an in depth, holistic and detailed report for working adults, including recommendations for the individual and the workplace: £550
GL Dyslexia Screening Assessment: an online screening assessment carried out with the guidance and observations of a specialist teacher. Reports are automatically generated and the independent dyslexia specialist adds individual recommendations. Your report is usually ready within 24 hours of the screening. £100 
Fees are payable to the assessor in advance.
Tuition & Support
Online one-to-one multi-sensory tuition is available with dyslexia specialist teachers Ruth Gravelle, and Stella Alexiou. We support children, young people, adults including university students and people at work, assisting you to:
Identify personal strengths and find your best ways of learning/working
Develop reading, spelling, memory and organisational skills
Use technology which supports reading, writing, spelling, memory and organisational skills
Make sense of the learning difference experienced
Cope more easily at school, home, university, in the workplace and socially
Increase confidence and self-esteem
Online Mentoring for GCSE and A Level students is also available with Claire Waspe, BA (Hons). Claire has considerable experience as a 1:1 learning mentor (online / in person) for GCSE and A Level students with dyslexia and other learning differences. 
Tuition, Support and Mentoring Fees are payable in advance
Online Tuition / counselling /therapy : £40 per session
Tuition or therapy in person at Chelmsford: £50 per session
Online Mentoring for GCSE and A Level students: £35 
Workplace coaching: £130 for 2 hours. There may be additional costs for travel. 
Dyslexia Counselling / Therapy
If you are finding it difficult to cope with dyslexia on a daily basis, you are welcome to contact us to book a therapy / counselling session. It can absolutely help to talk. There are no guarantees, but you're likely to feel heaps better after just one session!
Positive Dyslexia Mindset
Research shows that people with dyslexia "…have a unique brain structure and organisation, with some different brain strengths" (Eide and Eide, 2011). Many have excellent skills in visual thinking and visual technologies, and they have a highly creative potential (West, 1991/2009). Social, cognitive and work related strengths have also been identified, as well as a strength in unconventional thinking, which are, "…precisely the skills needed for individuals and organisations to flourish in the 21st Century" (Nicholson, 2015).
We need to identify and nurture their strengths!
Whilst dyslexic people have many strengths, the diagram below (tes resources) provides a snapshot of the types of difficulties you may observe in dyslexic children. This diagram could be used as a starting point to identify where changes to teaching and learning are required. For example, if a child is struggling to learn the 10+ weekly spellings routinely given at school, reduce them to perhaps  3-5 spellings a week to enable them to learn spellings in a structured, cumulative and multi-sensory way, incorporating their strengths.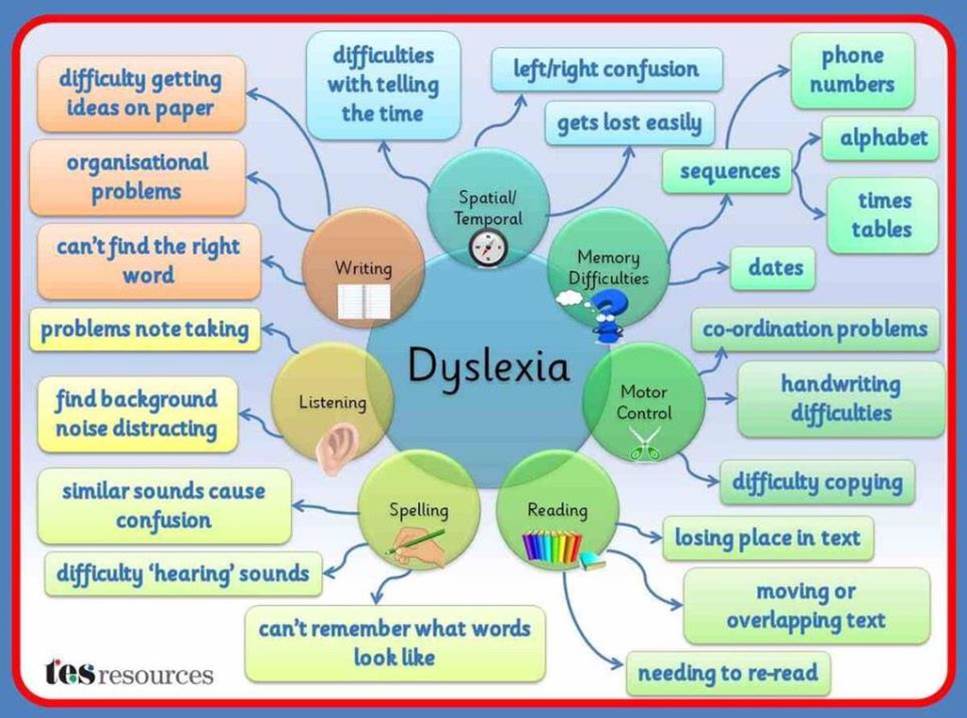 Dyslexia needs to be taken seriously and managed carefully. The danger of children 'failing to learn and learning to fail' (Nicholson, 2015) makes safeguarding them from "toxic learning experiences" an absolute priority.  We must quickly notice the children who are struggling and enable them. 
Assessment from the age of 7 years and a carefully developed Individual Learning Plan is recommended. We need to help people to become better at being dyslexic (Eide and Eide, 2011), to identify and remove dyslexia related stressors and to find skills and strategies that enable them.  Multi-sensory teaching  methods, Apps and exercises for 'brain training', breaking things down into small manageable chunks, support with homework, organisation, memory, reading, reducing weekly spellings and assisting children to find strategies can all help. Most of all, we need to help them recognise, celebrate and work with their strengths; the world needs people with different strengths.   
Nicholson (2015) states that,"Dyslexic children of 5 years are not reading ready", and a body of research has found that all children under 7 years old learn best through play, not just the dyslexic ones! Upstart (www.upstart.scot) is an organisation campaigning for all children in Scotland to delay formal education until the age of 7 years, with a statutory play-based 'kindergarten stage' in early years. Would you like to see this change in the UK too?  "Childhood is not a race!" The under-sevens need "PLAY NOT TESTS" (Upstart)!
Ruth Gravelle's 30 minute talk, "Positive Dyslexia and a New Approach to Education" https://www.youtube.com/watch?v=Ab4-2QZti0A introduces dyslexia, and what is meant by 'Positive Dyslexia'. A new approach to education is proposed for the UK to better enable all learners, not just those with dyslexia. Please contact Ruth through www.rightmind.life if you would like her to speak at an event.
Awareness Events: Positive Dyslexia/ Neurodiversity 

60 participants attended this event, which encouraged parents and teachers to: empower the learner;  identify their learning differences; enable their strengths; recognise and remove stressors & build resilience; use multi-sensory methods; train the brain; consider nutrition; enable skills and strategies; enable children to believe in themselves. You can contact Ruth Gravelle to enquire about booking a similar course. Feedback included:
What was most Useful? "Thinking about relaxation and ways to alleviate stress." Would you recommend this course? "Yes, to help people develop an understanding of dyslexia, the reasons behind it and ways to manage it and identify it."  – Mel Dale

Most useful: "Suggestions of approaches to help – books, games and keeping very positive, including removing stressors. Focus on how dyslexia can effect how a person feels about themselves and therefore how they approach life in and out of school. Excellent presentation with great knowledge and passion for the subjects." – Joan Brown

Would you recommend this course? "Yes – highly important information – good at understanding children with dyslexia" – Tammy Phillips

Most Useful: "For me it was very helpful and I learnt a lot about dyslexia. The presentation materials were very well worked out" – Maria Kinzamora

Most useful: "Practical strategies to support and teach" Least useful: "Where some strategies were just mentioned." Would you recommend this course? " Yes. Very engaging, passionate and knowledgeable presenter." – Anonymous.

Most useful: "Most of it."  Would you recommend this course to colleagues? " Yes. To open their eyes" – Anonymous.
Workplace Assessment, Consultation, Coaching & Therapy
Even subtle difficulties with reading, writing, spelling, numbers, short-term memory, sequencing, visual orientation and sometimes speech can cause significant problems in the workplace. The 'dyslexic' person has to deal with his or her own frustrations and challenges, as well as other people's lack of understanding, which often causes anxiety and other unpleasant emotions. They may have developed some unhelpful coping strategies, such as staying late at work  or avoiding certain jobs, and they may experience increased levels of stress. A formal dyslexia assessment, followed by a workplace needs consultation, coaching and therapy if appropriate, helps both the employee and the employer to make necessary changes and move forward in the best ways.
Formal Assessment: It is recommended that employers offer formal assessment for staff who may experience dyslexia.
Confidential Workplace Consultation Report: Associates of rightmind.life provide Workplace Consultation Reports. The consultation process involves the completion of a questionnaire, and a workplace consultation with a dyslexia specialist. The specialist will meet with you and your employer separately and then together. We look at your job role and any difficulties you may have within that role due to your learning difference (such as difficulty to proof read and write emails).  As with a dyslexia assessment, this often represents a significant turning point for the 'dyslexic' person, to be able to take control over their situation. A report including recommendations for reasonable adjustments is then produced. If you already have a formal assessment (dyslexia/dyspraxia), a workplace consultation report with rightmind.life costs £300.  If you do not have a formal assessment, a workplace consultation report costs £350. There may be some additional expenses if you are located outside Chelmsford.
Workplace Coaching / Dyslexia Strategy Sessions may be one of the recommendations within your workplace consultation report/workplace needs assessment. The specialist coach works with the employee, following report recommendations to enable them to cope more easily with their learning difference at work. Coaching may involve enabling them to use voice recognition software and to develop spelling, writing and memory skills.  Progress is measured by asking the employee and employer target related questions before, during and after the coaching. Coaching can help you; to take control over your situation, recognise and work with your strengths, perceive your learning difference in a positive way, be goal orientated, develop healthy coping skills and implement effective strategies. Coaching / strategy sessions cost £65ph (in 2 hour blocks), and there may be some additional expenses if you are located outside Chelmsford.
Grow Your Own Happiness by Deborah Smith (2019).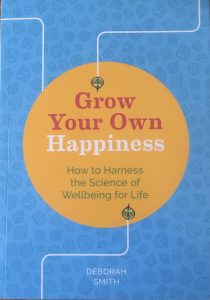 "Grow Your Own Happiness" is inspirational, refreshing and easy to read; clear, uncluttered and beautifully illustrated. The author, Deborah Smith International Positive Psychologist, experiences the learning differences of dyslexia and dyspraxia, and she did not cope well within the education system as a child. Deborah describes her path to happiness, which is greatly influenced by the practice of meditation. The book is set into 8 chapters with the titles of Gratitude, Mindfulness, Positivity, Resilience, Awareness of Strengths, Hope, Meaning and Motivation and Relationships. Each includes exercises to enable the reader or listener to 'grow their own happiness.' I am using the theory and exercises described in this wonderful book in my personal life and in my work as a dyslexia specialist teacher and therapist. If I were providing the UK education syllabus, all teachers would have this book as a key text for their development and training; all children would practice meditation and mindfulness, every day. Such a brilliant book available through Amazon. (Review by Ruth Gravelle). Deborah Smith's website: https://www.growyourownhappiness.com
Positive Dyslexia by Roderick Nicholson (2015)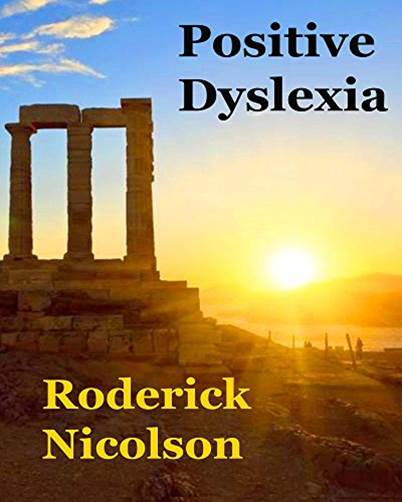 In this book Professor Roderick Nicholson parallels the terms 'positive dyslexia' and 'positive psychology' directing upon our strengths, which he says, are within each one of us.  It is proposed that society needs to change, to recognise the strengths within the dyslexic person, rather than focus on correcting their weaknesses. Nicholson's research has identified social, cognitive and work related strengths within the dyslexia profile; all capped and integrated by a strength in unconventional thinking. He states that the strengths of dyslexia: "…are precisely the skills needed for individuals and organisations to flourish in the 21st Century." This is a great book based upon academic research findings, with recommendations for a healthier society. You can visit Roderick Nichoson's website for some free positive dyslexia downloads: www.dyslexia.org (Review by Ruth Gravelle).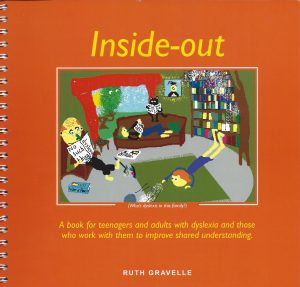 Inside-Out by Ruth Gravelle (2004)                            Written for the teenage and adult market to improve shared understanding, the lively illustrations together with the words in this book can enlighten and inspire its readers. 'Inside-out' describes aspects of dyslexia through pictures and words; showing how it can feel to experience this type of learning difference; helping people to understand their experiences, recognise their potential and inspire them to develop further skills and strategies to cope. Inside-out is available through Amazon: https://www.amazon.co.uk/Inside-out-Ruth-Gravelle/dp/1904160859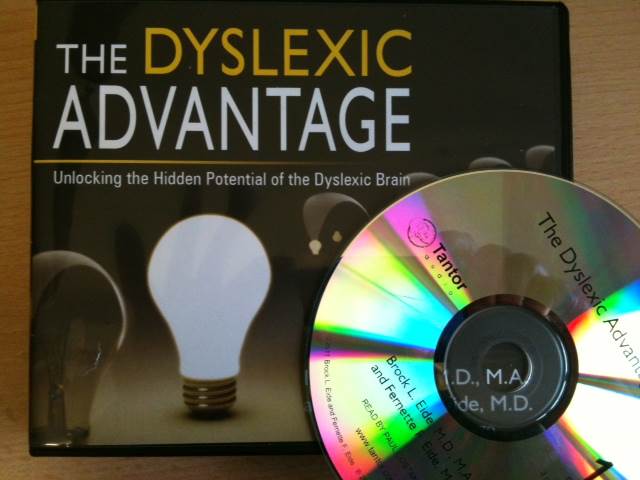 Free Advisory Appointments
rightmind.life offers free 30 Minute Advisory Appointments to parents and carers of children where dyslexia is known or suspected. Students over about 10 years old may also like to attend. Adults are welcome to book an advisory appointment for themselves.
The appointment will be with a specialist teacher who offers verbal advice and recommendations within the appointment time. Examples of recommendation could include: talking with the school SENDCo or GP, referral to a specialist optometrist, formal assessment for dyslexia, suggestions to support learning at home, specialist tuition and advice for coping in the workplace.
Advisory appointments are usually held at Perception House, 50b Duke Street, Chelmsford, Essex, CM1 1JA.
Please email: ruth@rightmind.life , phone/text for 07919 405 501 to request an advisory session with a specialist teacher.
Vision and Dyslexia
We recommend that you attend an appointment with an optician who has a specialism in vision and dyslexia before your dyslexia assessment if you experience visual difficulties when reading such as: easily losing your place, seeing two of each word, words appearing blurry, unclear or moving about on the page, if your eyes become sore or water or irritated in some other way, or if reading for more than a few minutes results in a headache. Please click on the following link to connect with a more detailed visual screening checklist:
https://www.sasc.org.uk/SASCDocuments/Visual%20Difficulties%20Screening%20Protocol%20V2%20Jun19.pdf
Optometrists in Essex include:
Families in Focus
For your information, if a young person in your family is struggling to cope with a particular change, challenge or crisis, Families in Focus may be able to support you. This organisation is  "…a parent led registered charity providing holistic support to families of children with disabilities and special needs (aged 0 to 25) across Essex, who require advice, information and support, particularly at times of change, challenge and crisis." http://www.familiesinfocusessex.org.uk. 
Testimonials
Hi! I wanted to write and give my praise and appreciation for my Study Skills Tutor, Ruth Gravelle. Her understanding of the difficulties and advantages of being Dyslexic was a breath of fresh air. She was able to think outside the box and suggest a variety of ways of approaching studying, revising, and academic study skills in an uncommon specific medical area at MSc level, where others would use that as their excuse to not be able to help me. She was also very supportive during the stressful exam periods and always left me feeling motivated and inspired to study. Her disposition is always happy, positive, encouraging, and understanding. Without a doubt the best support I have received in further education. This was all achieved remotely through Zoom sessions. Alison.
Postgraduate student, July 2020
Feedback from parent following 3 sessions  
Hi Ruth… Happy New Year. M has been doing really well on her revision these last few weeks and has got into a really good rhythm. I am very proud of her… She is creating the flash cards to revise and has just got on with it with confidence she did not have before. I will keep you posted. Thank you for all your help to date – you have been a star. 
A parent, January 2020
Letter to Dr Sue Warnock:
"…I just wanted to pass on our huge appreciation of helping us understand D and how best we can help him. We now have a framework through which to have structured and supportive conversations, rather than the lazy, immature perception that we've struggled with.

We can also now understand why D says "nobody believes me anymore" and he becomes extremely frustrated when he tries to explain why he can't produce written work, follow instructions or do physical movements, despite seeming to be a capable and bright boy. It broke my heart when he got his year 4 report and he cried and said "mummy, it's not very good but I don't understand why, I have tried really hard". Bless him …… this must be incredibly frustrating!

We are feeling positive that we can provide the support he needs and hopefully with techniques and coping mechanisms there are practical ways to improve his ability to convey his brightness in his school work and progress tests so will be in a better place for his upcoming 11+ common entrance exams later this year…"
– A Parent, January 2019
"Ruth has worked with my son who is diagnosed with dyslexia and was a reluctant reader and writer. Since working with Ruth he has blossomed into a learner who is engaged, curious and willing to give reading and writing his best shot. Although he still struggles to get his ideas written down he is much more confident in giving it a go and is able to see the benefits of doing so, which is fantastic to see. Ruth has also worked on improving his memory and recall skills and he is now confident in applying these techniques to all aspects of his learning.

Ruth has provided regular updates and always delivered well planned lessons with a great variety of resources. Ruth's passion for making learning fun and meaningful has enabled my son to become an independent reader and writer."
– Becky (Primary Teacher), 2018
"We do the letter arc, reading, spelling, memory games, computer work and drawing. The lessons are fun. Ruth is a very kind and good teacher."
– Joseph, age 7, 2017
"Ruth has helped me to gain confidence and find practical solutions which have made a real difference, especially with coping at work…"
– Jack, Social Worker, 2017
"Ruth Gravelle has helped me to overcome aspects of my disability that in the past held me back in my education and employ-ability. The educational support and positive psychological input has helped me in the last 6 years to graduate from two universities, and has given me a positive outlook to living with dyslexia.

I am currently working full-time as a Counsellor at a hospice."
– Graduate (DSA), 2015
Previous Events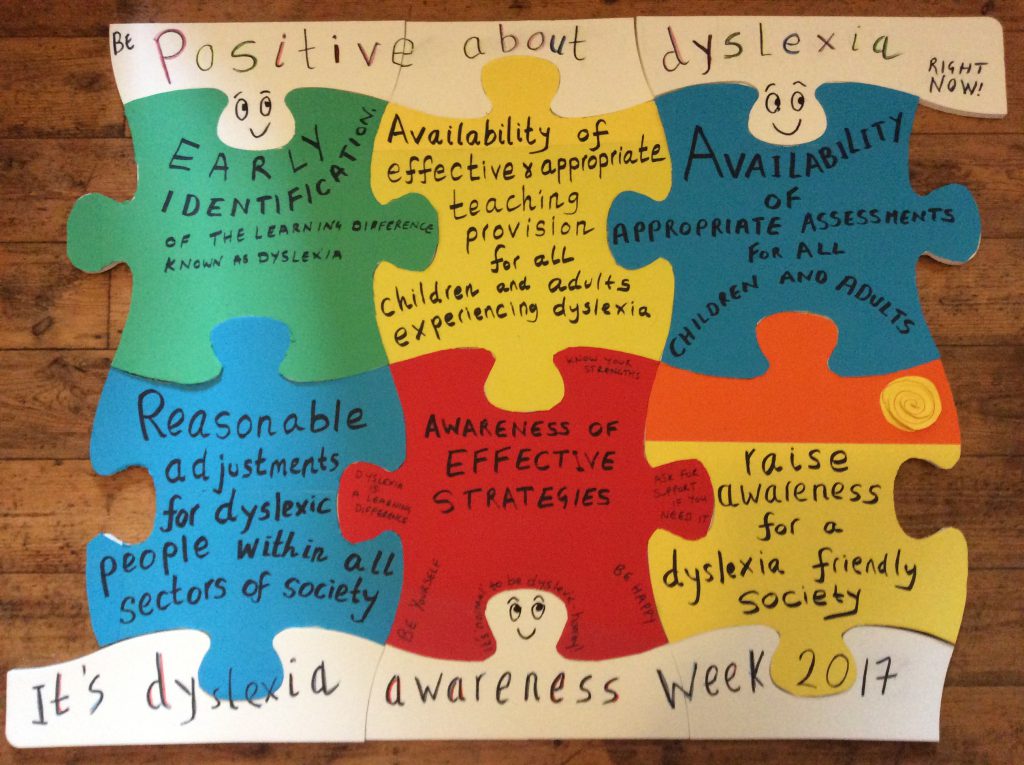 During dyslexia awareness week 2-8 October 2017 rightmind.life provided an information display in the covered area just outside Chelmsford Central Library. This is all as relevant now as it was in 2017! 
On 1 October 2017, Chelmsford Community Radio's LIfe Matters show (104.4fm) discussed dyslexia. Ruth Gravelle interviewed Jared Bates and Marilyn Smith. You can listen to this show again here (link to follow).
We support The British Dyslexia Association theme of "Positive about Dyslexia"
Addressing the Strengths and Challenges of Dyslexia
Wednesday 7th November 2012 – Dyslexia Rooms Talk
Ruth Gravelle from Dyslexia Rooms returned to SNAP to give a talk on addressing the strengths and challenges of dyslexia. The talk included an overview of dyslexia, consideration of perception and the identification of the strengths and challenges, which children and young people with dyslexia face. Ruth offered support and guidance to parents and discussed a variety of strategies, which they can use to try and help their children.
"It has given me as a parent a better understanding of what my daughter is going through."
"The talk gave me a better understanding of different ways dyslexia affects individuals and how to be more considerate towards their needs."
"It was helpful in reminding me that there are so many strengths and that I should be focusing on them rather than the weaknesses and challenges."